Let's look at why continuing your professional development journey is so important.
If you're reading the beginning of this blog and think, "professional career development" is a bit bland, then perhaps you haven't discovered the world of incredibly rewarding and engaging professional development opportunities that exist!
Professional development is an ongoing process (the key word being "ongoing") and it should rightfully continue throughout your life.
Whether you are starting your career and looking for professional development (PD), or established in your career, it is so important to set as a priority.
The benefits you can gain from professional development include:
Acquiring new ways to think and act
Gaining essential knowledge and skills
Learning how to develop new skills
Developing capabilities to transform your organisation
Raising productivity
Learning best-practice and, even
Building on strategies for personal growth
There have been times in my career where Directors of organisations I have worked for, encouraged me to step out of my comfort zone and attend a  PD course or session that was incredibly beneficial. One of the most immersive PD opportunities to date, was when I attended the Association of Fundraising Professionals (AFP) Congress in Toronto almost 13-years ago. Fast forward to 2020, I remain connected with individuals from the other side of the world, who continue to mentor and teach me invaluable skills.
Of course, I acknowledge that travelling overseas or indeed even attending local  PD courses may not necessarily be in your organisation's budget. So, if you really believe in the value of developing yourself professionally, which I do believe also develops you personally, then you should consider taking charge of your PD on your own terms.
Professional Career Development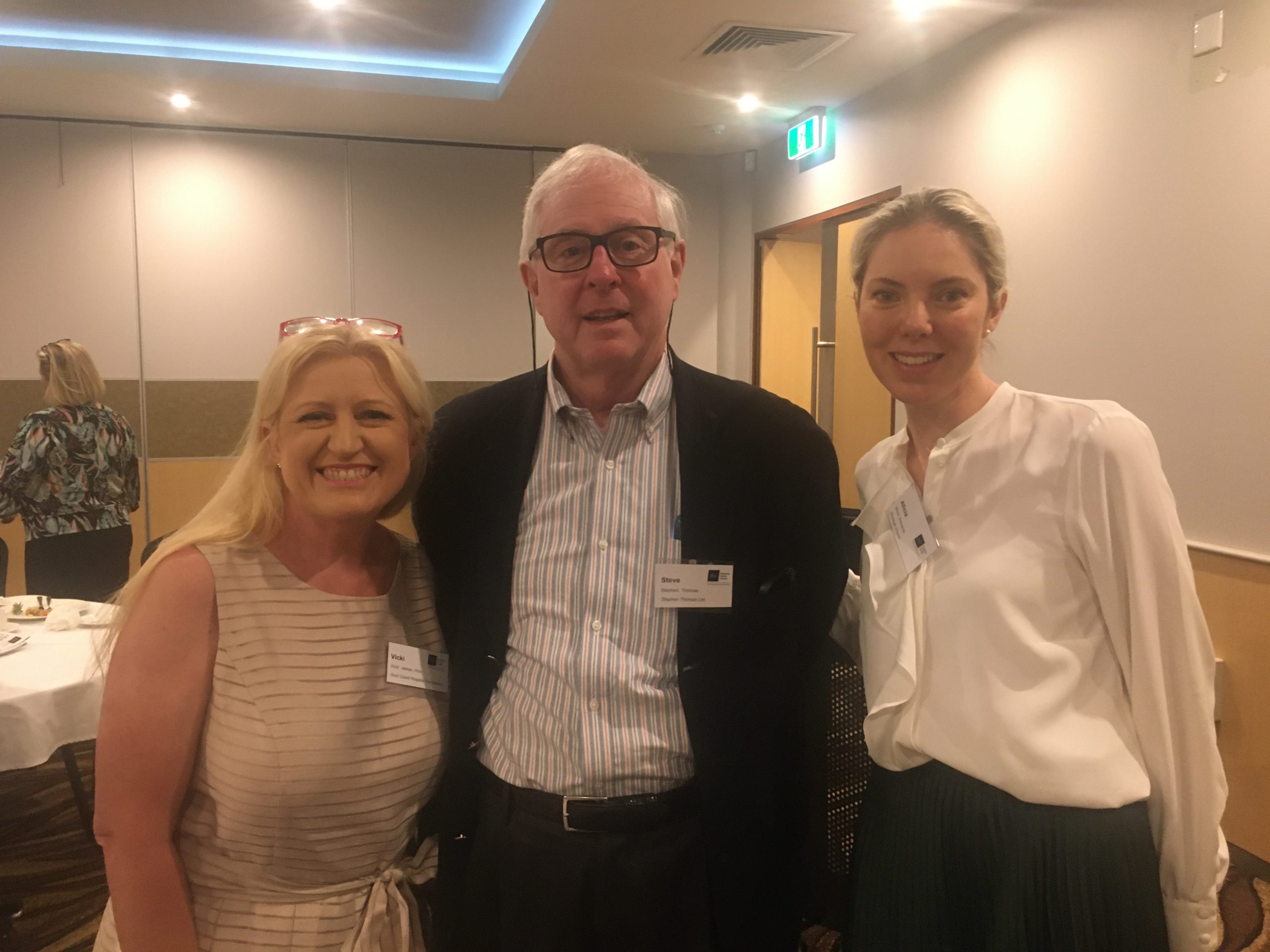 Vicki James, Steve Thomas and Alicia Edwards, attending an FIA professional development breakfast
As Vicki James from the Gold Coast Hospital Foundation said to me recently "It's an individual responsibility to invest in professional development. A lot of people use the excuse that their organisation doesn't have it in the budget but it's not always up to the organisation."
There is a myriad of professional development opportunities available to anyone working in the not-for-profit sector. Have you considered attending a conference? There are short course and online training sessions to upskill, motivate, refresh and educate.
Check out our list of not-for-profit professional development sources
New Zealand and Australia
International
At Strategic Grants we are also committed to advancing best-practice and we encourage you to participate in our training opportunities we have carefully curated for this year.
There are quick and budget friendly online webinars, insightful workshops and bespoke training day options that we can tailor for your organisation.
We run many types of training solutions to develop the capacity of our incredible sector.
Over a year we aim to host and present:
10 half-day workshops to upskill anyone who wishes to draw on best-practice grant-seeking techniques
Approximately 80 tutorials for GEM Portal users
At least 10 free GEM Portal training refresher courses for anyone who subscribes to our Grants Expertise Management System – GEMS
new online webinars
at many sector conferences
And we also offer:
An online library with recorded webinars that cover a range of topics from developing your project plans, beginner and advanced writing skills, evaluation and meeting funder expectations and;
Engaging podcasts to listen to and blogs to read (free resources on the SG website)
That's why continuing your professional development journey is so important.
So, my advice is not to delay. Schedule your professional development just as you would with any task you need to complete this year!
We look forward to seeing you at the next development opportunity.
For further information, check out the Strategic Grants Training and Free Resources page,