Jo Garner CFRE FFIA, Director
Jo Garner is the Director of Strategic Grants and a founding member of Queensland's first women's giving circle, Women & Change.
Working with peak bodies, funders and charities across Australia and New Zealand, nothing gives Jo greater job satisfaction than helping to increase the capacity of nonprofits to win grants and deliver vital community projects and to help grow philanthropy.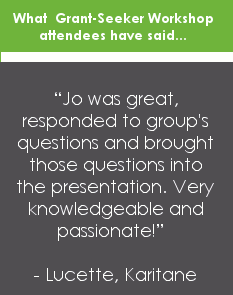 Jo has had the privilege of working with dozens of charities across Australia to help raise millions of dollars in both philanthropic and government grant funding and in 2014, expanded the Strategic Grants business into New Zealand.
Strategic Grants is now also assisting a growing number of funders with defining their grant application guidelines and application processes.
Jo is a CFRE and holds a degree in Commerce with majors in Marketing and IT. Her fundraising career started in 1994 with a full-time position with Diabetes Australia Queensland and then with the Mater Foundation.
Following the arrival of her two fabulous children, Jo did freelance work, consulting to charities in events management and running the secretariat for FIA in Queensland.
It was in 2002 that Jo responded to market demand to assist Brisbane-based charities to source grants to deliver their programs and meet fundraising targets.
Over the years, Jo has identified key areas where nonprofits need assistance and advice when establishing, reviewing and building an effective grants program.
With a growing client base and fabulous team of people, Jo established Strategic Grants in 2009 and, in 2012, launched the Grants Hub – now GEM Portal – online grants management system.
Jo was made a Fellow of the Fundraising Institute Australia in 2015.
Strategic Grants aims to bridge the divide between grant-seekers and grant-makers and to help grow philanthropy through ensuring best-practice fundraising strategy is always applied when seeking funding.