Jane Symonds MCommun, Research & Strategy Manager
Jane is a nonprofit communications and grants specialist with a wealth of experience and expertise in sourcing funding opportunities for NFPs, and communicating to get the best results.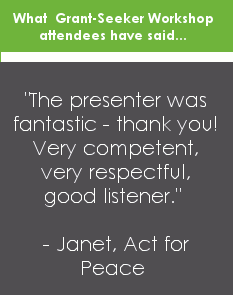 Jane honed her writing and communications skills as a journalist and editor for industry magazines, and spent time living and teaching in France, before moving into the nonprofit sector.
Her first role in fundraising was with the Royal Children's Hospital Foundation (now the Children's Hospital Foundation Queensland) in Brisbane, where she worked on a range of projects including management of the Trust and Foundation program, annual and research reporting, business proposals, marketing and fundraising copy, and prospect research.
Jane joined Strategic Grants in 2012.
She has undergraduate degrees in Journalism and Arts, and a Master's degree in Communication for Social Change. In 2015 she went home to rural Queensland to conduct research on communication and funding access.
Jane's organisational skills, her love of language, and her attention to detail make her ideally suited to manage Strategic Grants' grants research.
She lives and breathes the GEM Portal system, and is involved with development and delivery of Strategic Grants' suite of training offerings, including workshops, webinars and online courses for grant-seekers.
She is especially proud of the Community Grant-Seeker Training, as its development was informed not only by her academic study, but also by her personal experiences with small, volunteer-run community organisations.
Jane is on the Board of Happy Healthy Kidz Australia.