Harriett Carter, Grants Strategist, Queensland
Harriett is a communications specialist with outstanding client management skills, a passion for writing and a methodical approach.
With over 17 years of experience, Harriett holds a Bachelor of Business Communication and has proven accomplishments in strategic communications across government and the private sector.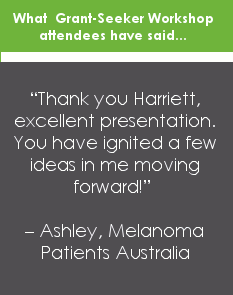 As Corporate Communications Manager for Queensland's Residential Tenancies Authority (RTA), Harriett worked directly with the RTA Board, senior management and her team to deliver the Authority's annual external/internal communication program. Harriett's particular interest in corporate copywriting also saw her produce two multi-award-winning annual reports, along with a full suite of community-based publications.
Harriett's career highlights also include her position as Account Manager for graphic design group NOUS Company, where she successfully managed multiple accounts and deadlines for some of Queensland's most recognisable brands.
Throughout her career, Harriett has developed strong expertise in strategic campaigns, publication management, identity management and corporate copywriting. Harriett's commitment to hard work drives her to achieve exceptional client service and excellent results.