Grant strategies to build nonprofit capacity
Author: Jo Garner
The Problem
Many of New Zealand's national organisations operate regional offices or divisions that operate autonomously or semi-autonomously. Frequently, in the case of this organisational structure, regional divisions undertake their own fundraising including grant-seeking. This can present challenges when it comes to developing a centralised fundraising and grant-seeking strategy.
Strategic Grants has heard feedback from numerous funders that they have received multiple applications from different divisions of the 'same' organisation, which shows a lack of organisational planning and communication processes and in some cases invalidates all grant applications from the organisation.
The Solution
Strategic Grants can work with organisations with a divisional structure to gather existing knowledge and data on funders, prospective funders and grants practices, and provide the advice and strategies to successfully undertake centralisation of grant-seeking, without disruption to existing funder relationships.
Case Study
Our client operated close to twenty regional divisions, which were each seeking grants for their local division with no coordination between regional offices.
Grant-seeking knowledge, history, data, information and relationships resided with each division's individual fundraisers in various formats: paper-based, digital and in some cases the memory of the fundraiser!
There was no clear picture of what the fundraising practices were in each division and no processes for the divisions to follow in grant-seeking. The significant reputational and financial risk this posed to the organisation had been identified by the Executive who were investigating options for centralising all operations.
In the case of grant-seeking, it was clear there were some significant funder relationships held, but there was no clear understanding of where the strengths and weaknesses lay in past practice or who held those relationships.
The Client faced a considerable risk of diminished income from grants by not capitalising on strengths or addressing weaknesses, and the potential loss of information with the restructure and movement of existing local staff.
Strategic Grants worked with the national office to gather grant-seeking history across the local offices by working directly with each of the local fundraisers. This data was collated and analysed to identify what was needed to build an effective and sustainable grant-seeking strategy under the new centralised structure.
Grants Program Review
A full analysis of strengths, weaknesses, opportunities and threats (SWOT) was carried out through an in-depth research and collation project that collected data on:
· Number of applications submitted per office
· Number of successful applications in each (to get the average % success rate)
· Detail of the process that had been applied in each office through surveys and in-depth interviews with the fundraisers. This was evaluated against what Strategic Grants knows as best practice, informing the SWOT.
Questions included:
o How have funding opportunities been identified?
o Have funders been called before applications submitted?
o Have funders been called on receipt of grant?
o How is the grants activity stored?
o How are accountability dates stored?
o Have all grants been reported to funders?
o What organisational key messaging have they used in their applications?
o Total number submitted over specified time periods
o Success rate
o Funder feedback
Both quantitative and qualitative data was analysed and presented within the SWOT and evaluation report.
Throughout the data collection, grants history was collated into one central spreadsheet, telling us who had funded, how often, how much and showing trends in decreases / increases in funding against sector trends more generally.
The data and subsequent evaluation report provided a clear plan (including ideal resourcing) for what the next steps needed to be to develop a sustainable, centralised and effective grant-seeking strategy.
The report was then presented to the new central fundraising team and leadership at a Grants Program Review Workshop. Consultative and informed decisions were made and a final report on processes to be followed in the new centralised grant-seeking strategy was provided.
Example of outcomes
Following advice that they package projects and apply for larger grants rather than applying for numerous small grants, we assisted our client to apply for a large grant for their national central operational costs, for which they were successful.
To book a consultation with one of our Grants Strategists to discuss the best grants solution for your organisation, please contact us: 09 801 0433 or info@strategicgrants.co.nz
Author: Jo Garner
I had the privilege of attending last weeks' Philanthropy New Zealand Conference, " The Future of Trust" with our NZ Grants Strategist, Clint Dunstan. What a stimulating and inspiring few days.
As an Aussie, I am always in awe of the natural inclusion of Maori culture, tradition and language in these and other NZ events. From the Powhiri to the Poroaki, the speakers, workshops, conversations and camaraderie all embraced the conference theme, and exuded inclusiveness.
Because there was so much rich content shared by a plethora of amazing national and international speakers, I have captured here some quotes that hone in on the key messages for those of us working with funders and community organisations seeking funding. Forgive me for not citing all references, my notetaking could not keep up with the volume of rich information.
Some key messages for donors and funders:
"Give like you do in tragedies and natural disasters. Homelessness is an ongoing emergency."
"Help to strengthen NFP's leaders and movements."
"Trust your existing NFP partners. If they have submitted an application to another funder, save them paper work and get them to just send you a previous application."
"Measurement of impact takes time. If you expect impact measurement, fund the project for long enough"
"Take risks, accept failures."
And most importantly, "The talk about nonprofit organisation overheads is exhausting! Let's move on!"
For nonprofits:
"Effective partnerships between funders and recipients are relationships, not transactions."
"Collaboration takes time, relationships and trust."
"Having a baby is like when you get a multi-year government grant, you are so excited when it arrives and then you soon realise it is so much work and you can't give it back."
For us all:
"Learn together and share"
"Don't leave it to others to make change"
"We can't save the big issues without trust"
#presentingtip "There is Japanese research that shows looking at picture of baby animals, increases productivity."
"We have a very small window to stop the damage we are causing Earth and start to let our planet heal. We all need to make conscious, ethical, proactive choices and act now."
And some really cool people I met, both working to help save our planet! Dr Jane Goodall and Veronica Harwood-Stevenson.
INSPIRING 😊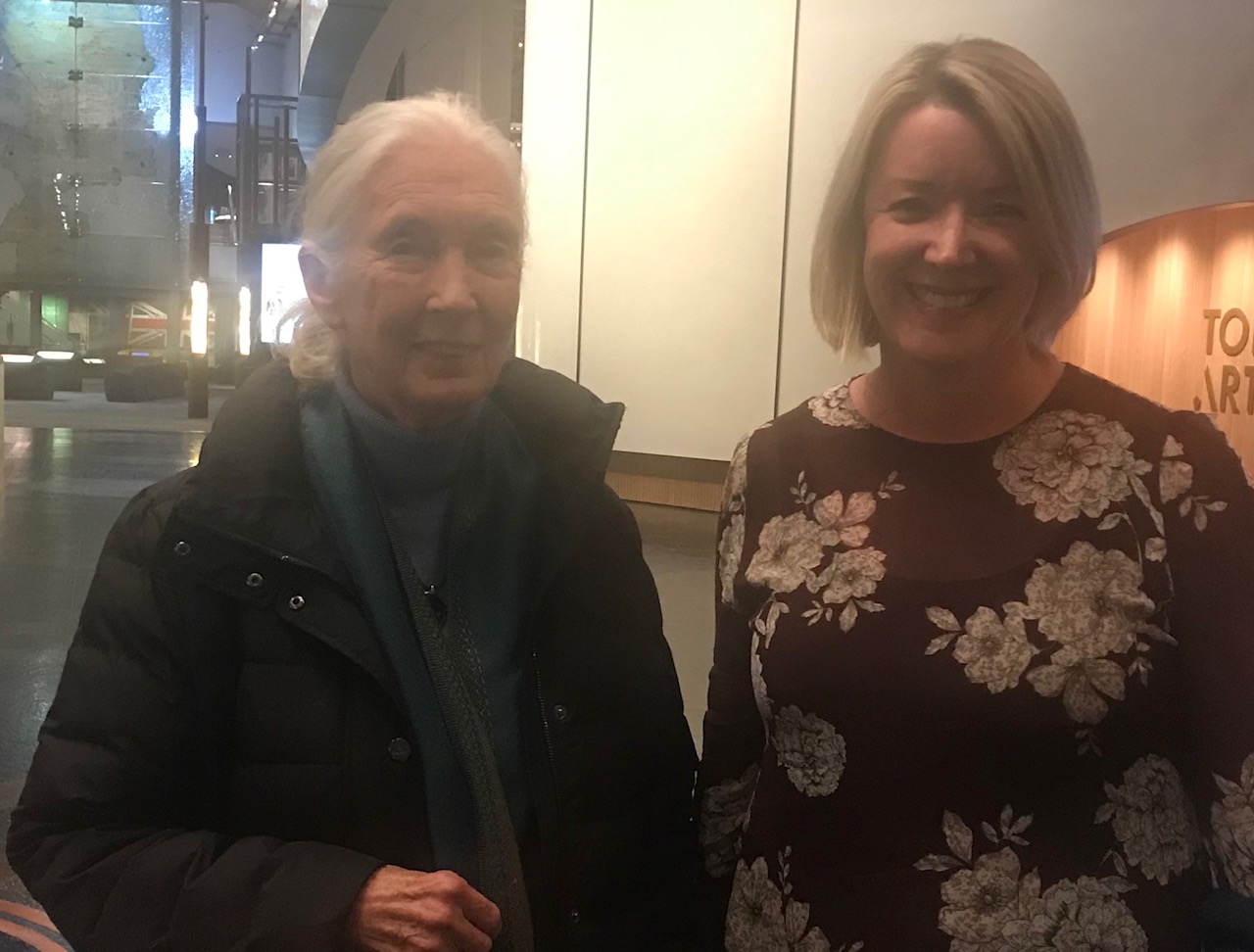 And for both Clint and I, it was an absolute pleasure to present the Philanthropy NZ Te Tiriti O Waitangi award for a grant making strategy that best aligns to the principals of Te Tiriti and Kaupapa Maori to J R McKenzie Trust at Parliament. Congratulations to them and to all the other award winners (pictures found here)