Grant strategies to build nonprofit capacity
Author: Jo Garner
I had the privilege of attending last weeks' Philanthropy New Zealand Conference, " The Future of Trust" with our NZ Grants Strategist, Clint Dunstan. What a stimulating and inspiring few days.
As an Aussie, I am always in awe of the natural inclusion of Maori culture, tradition and language in these and other NZ events. From the Powhiri to the Poroaki, the speakers, workshops, conversations and camaraderie all embraced the conference theme, and exuded inclusiveness.
Because there was so much rich content shared by a plethora of amazing national and international speakers, I have captured here some quotes that hone in on the key messages for those of us working with funders and community organisations seeking funding. Forgive me for not citing all references, my notetaking could not keep up with the volume of rich information.
Some key messages for donors and funders:
"Give like you do in tragedies and natural disasters. Homelessness is an ongoing emergency."
"Help to strengthen NFP's leaders and movements."
"Trust your existing NFP partners. If they have submitted an application to another funder, save them paper work and get them to just send you a previous application."
"Measurement of impact takes time. If you expect impact measurement, fund the project for long enough"
"Take risks, accept failures."
And most importantly, "The talk about nonprofit organisation overheads is exhausting! Let's move on!"
For nonprofits:
"Effective partnerships between funders and recipients are relationships, not transactions."
"Collaboration takes time, relationships and trust."
"Having a baby is like when you get a multi-year government grant, you are so excited when it arrives and then you soon realise it is so much work and you can't give it back."
For us all:
"Learn together and share"
"Don't leave it to others to make change"
"We can't save the big issues without trust"
#presentingtip "There is Japanese research that shows looking at picture of baby animals, increases productivity."
"We have a very small window to stop the damage we are causing Earth and start to let our planet heal. We all need to make conscious, ethical, proactive choices and act now."
And some really cool people I met, both working to help save our planet! Dr Jane Goodall and Veronica Harwood-Stevenson.
INSPIRING 😊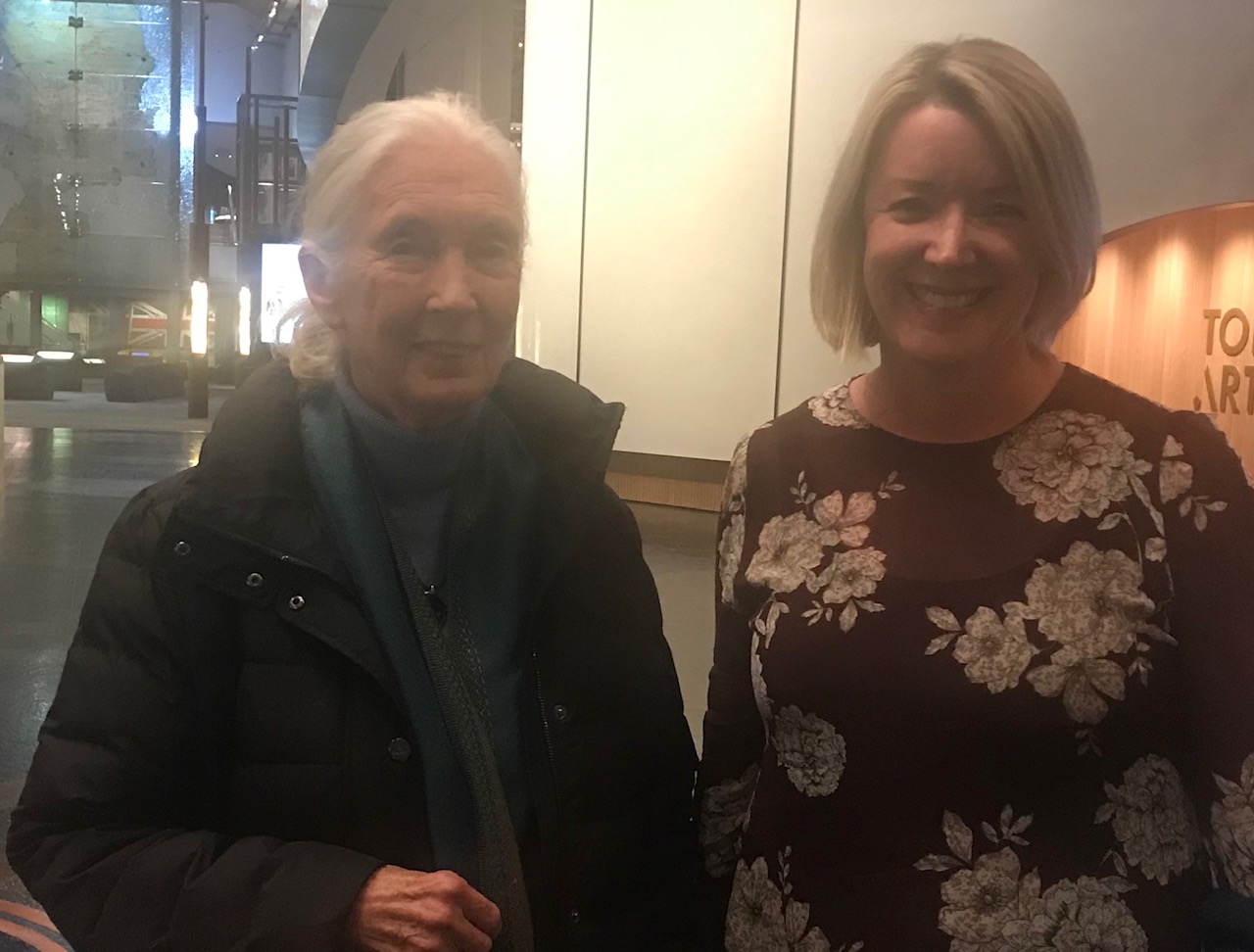 And for both Clint and I, it was an absolute pleasure to present the Philanthropy NZ Te Tiriti O Waitangi award for a grant making strategy that best aligns to the principals of Te Tiriti and Kaupapa Maori to J R McKenzie Trust at Parliament. Congratulations to them and to all the other award winners (pictures found here)

"We want Charities Services to work cooperatively with our trust towards the aim of being registered."
Earlier this year we concluded a national survey to provide community input to the review of the New Zealand Charities Act 2005. This is the first time since 2005 that the Charities Act has been reviewed. The Charities Act 2005 regulates more than 27,000 charities in New Zealand, and it has been in place for more than a decade.
We collected and analysed data to help gather feedback on what is working, and what is not, in relation to the Charities Act 2005. A total of 577 individual responses were received from people working in the charitable sector across New Zealand. A range of issues and themes emerged and will be presented to the Review for the improvement of charity regulation in New Zealand. Below are a few matters that stood out.
Purposes of the Act
Stakeholders in the charitable sector view the Charities Act 2005 as vital to ensure public trust, transparency and accountability in the sector. Many people are satisfied with the purposes of the Act, suggesting it is 'helpful', 'good', and provides 'the right balance'. The most relevant purposes of the Act were seen as:
- Promoting public trust and confidence in the charitable sector
- Educating and assisting charities in relation to matters of good governance and management
- Compiling and maintaining the charities register
"I view the Charities Act 2005 as vital to ensure accountability and transparency in the charity sector."
"Being registered adds validity to our organisation which is acceptable to the public."
Despite the benefits of being a registered charitable organisation, smaller charities were more likely to have problems with registration. Reasons for not being registered include costs, compliance and narrow criteria, unnecessary administration burden, lack of knowledge of the requirements, or other.
Knowledge, Education and Support
Overall, respondents to the survey indicated they were only somewhat informed of the Charities Act 2005. Many felt the New Zealand general public's knowledge and use of the register could be improved. The general public's knowledge and confidence in the charitable sector has bearing on the way charitable groups or organisations are perceived.
"I am not sure that many members of the general public are aware of the register and it's uses."
More active support is needed, particularly for small and volunteer based organisations. Responses highlighted a current gap in professionalism and knowledge around best-practices for good governance and management. Many people felt the Charities Registration Board should provide greater guidance, guidelines and assistance around the legal requirements for charities to be registered. The importance of education and training to help build the governance capacity of the sector was prominent in many of the survey responses.
"Charity services needs to take leadership in aspects of developing education and frameworks for charities, CEO's and Trustees like the IoD does in the corporate sector. Governance is essential but the tools / capability development isn't there at an affordable level for the sector."
Moreover, respondents wanted to see greater recognition and acknowledgement of the contributions of charities to New Zealand society.
Definitions of charitable purpose and advocacy
The research indicates greater clarification or expanded definition/ clarification of charitable purpose, charitable benefit and status is needed, as is a clear definition of what constitutes advocacy. Many people felt that their charity is unable to advocate for their causes and points of view, and also be registered. Firm views were expressed throughout the survey as to being able to advocate for charitable causes as a necessary activity. Many felt current definitions of charitable purpose and advocacy in relation to registration requirements negatively impacts the core work of charitable organisations in New Zealand.
"I am concerned that the Act limits the function of charities to undertake some functions e.g. advocacy, which could be seen as limiting the voice of charities wishing to advocate on behalf of their communities. I agree that charities should be able to operate businesses to raise funds to be used for charitable purposes, this also relates to the lack of any legal structures for social enterprises."
We will keep you posted as the review progresses. Our full report from the national survey is available here.
For more information about the reviewsee the following link:   https://www.dia.govt.nz/charitiesact